Country duo Johnnie & Jack were Johnnie Wright and Jack Anglin, singers, songwriters and guitarists who had been performing together for several years, interrupted by war service
Country duo Johnnie & Jack were Johnnie Wright and Jack Anglin, singers, songwriters and guitarists who had been performing together for several years, interrupted by war service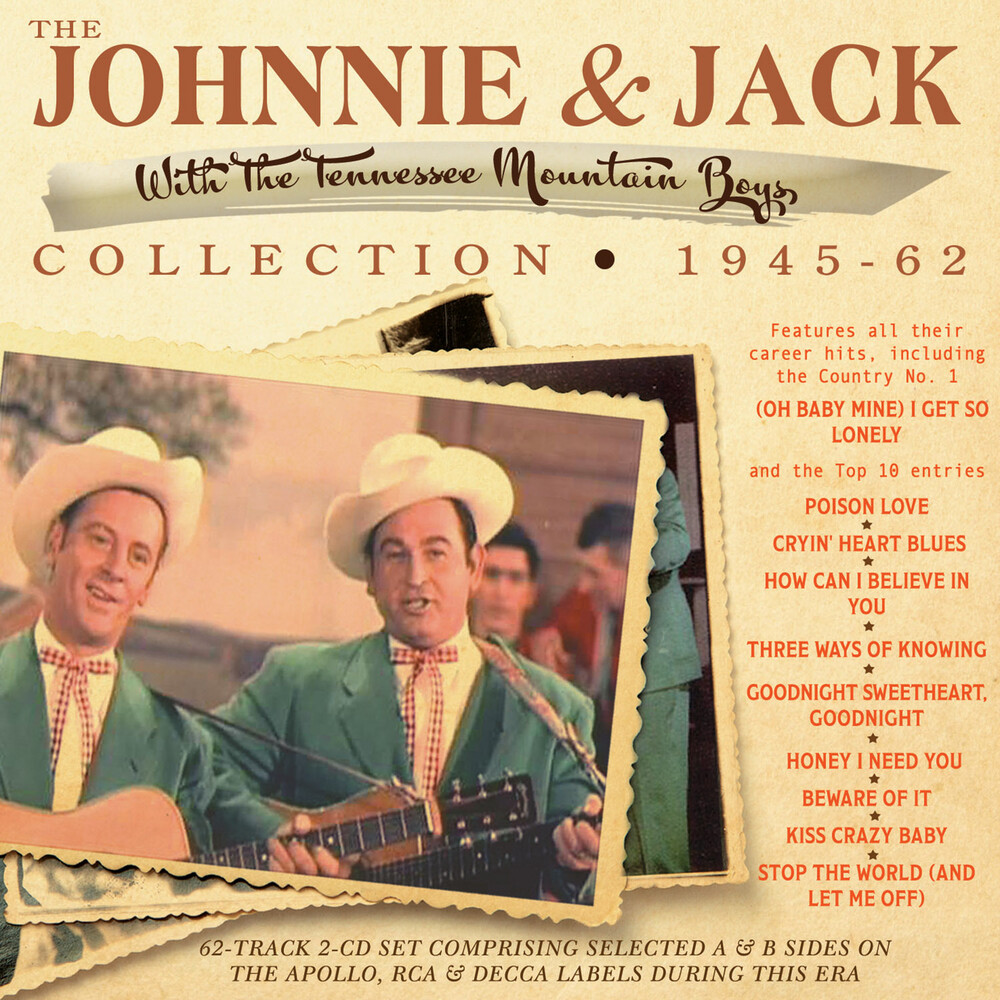 Details

Format: CD
Label: ACBT
Rel. Date: 11/06/2020
UPC:

824046336028
Johnnie & Jack Collection 1945-62
Artist:
Johnnie & Jack
Format:
CD
New:
Available
$16.99
Wish
Available Formats and Editions
1. Love in the First Degree
2. This Is the End
3. She Went with a Smile
4. Just When I Needed You
5. I Heard My Saviour Call
6. Pray Together and We'll Stay Together
7. Jesus Hits Like the Atom Bomb
8. Shout
9. Jesus Remembered Me
10. Poison Love
11. Lonesome
12. I Can't Tell My Heart That
13. Take My Ring from Your Finger
14. Cryin' Heart Blues
15. How Can I Believe in You
16. Let Your Conscience Be Your Guide
17. You Tried to Ruin My Name
18. Three Ways of Knowing
19. Slow Poison
20. Shake My Mother's Hand for Me
21. I've Gone and Done It Again
22. Don't Let the Stars Get in Your Eyes
23. I'll Live with God (To Die No More)
24. Hank Williams Will Live Forever
25. South in New Orleans
26. Private Property
27. Angels Rock Me to Sleep
28. Pig Latin Serenade (Pa Won't Know and Ma Won't Care)
29. From the Manger to the Cross
30. Cheated Out of Love
31. You Got Me in Your Power
32. Borrowed Diamonds
33. (Oh Baby Mine) I Get So Lonely
34. You're Just What the Doctor Ordered
35. Goodnight Sweetheart, Goodnight
36. Honey I Need You
37. Beware of 'It'
38. Kiss Crazy Baby
39. Sincerely
40. No One Dear But You
41. Look Out
42. S.O.S
43. I Want to Be Loved
44. I Loved You Better Than You Knew
45. Tom Cat's Kittens
46. The Banana Boat Song
47. Pleasure Is Not a Habit in Mexico
48. That's Why I'm Leavin'
49. Move It on Over
50. Camel Walk Stroll
51. Stop the World (And Let Me Off)
52. I've Seen This Movie Before
53. Lonely Island Pearl
54. That's the Way the Cookie Crumbles
55. I Wonder If You Know?
56. Sailor Man
57. Sweetie Pie
58. Just Like You
59. Country Music Has Gone to Town
60. Uncle John's Bongos
61. Sweet Baby
62. Thirty Six-Twenty Two-Thirty Six
More Info:
Country duo Johnnie & Jack were Johnnie Wright and Jack Anglin, singers, songwriters and guitarists who had been performing together for several years, interrupted by war service